20 years building communities for new game developers, together released 500 team games
Teams in my current group made over 175 games since October 2015
My main work is operating an independent, member-led, remote learning community named HomeTeam GameDev. It's a non-traditional to practical skills education with an emphasis on project-based learning, teamwork, and just-in-time training.HomeTeam GameDev is the third game development practice community I've set up.This pattern started when establishing Game Creation Society at Carnegie Mellon ("1.0" of this system) in 2004, then I iterated on it further to start VGDev at Georgia Tech (a "2.0" iteration) in 2010. Both are still operating. Game Creation Society has released 190 games, VGDev has released 150 games (2018-present site and 2010-2018 site).
"I credit the Game Creation Society with cultivating my expertise in a broad range of disciplines as well as establishing my professional career in game development."
-John Nesky
Game Creation Society Alumni
Feel Engineer at thatgamecompany on Journey"VGDev is where I got some of the most impactful and relevant education of my college career. There's no substitute for rolling up your sleeves and getting your hands dirty developing (and perhaps most importantly finishing) a real game. VGDev provided a welcoming environment where people of all skill levels can come together and learn from each other and it's a part of what shaped me into the game developer I am today."
-Kelly Snyder
VGDev Alumni
Engine Producer at Bungie"Initially, I didn't have any plans to program, or even touch coding at all. But after joining HomeTeam GameDev, I was able to learn how to code. Everyone is here to learn and develop games together in a super positive environment. Nobody is held responsible for making mistakes, because everyone in the team will try to fix it together and find out what went wrong as a team... That is part of the process of learning."
-Charlene A.
HomeTeam Member, contributor on 17 released team games
HomeTeam GameDev has released 175 games, including the 4 seen below (Triune Legacy led by Tyler Funk, Flick Tactics led by Bilal A. Cheema, Spark led by Tylor Allison, and Bush League Hockey led by Patrick J Thompson):
These communities help people learn through making whatever games they want to. Members have total autonomy, taking on any roles, tasks or games they'd like, one week at a time. No one is anyone else's boss, told what to do or how to do it. When people need help, it's available from me, our industry trainers, and their peers in the group. We release every game on time.Our methods are are not mainly career or job-oriented, however training in our groups has been a useful step for many people.
"VGDev is where I first met and worked with the people who would form our indie game company. It was a great place to meet like-minded people and learn how well you work together as a team."
-Colton Spross
VGDev Alumni
Founder of indie studio developing Home Improvisation on Steam"First and foremost, it gave me the confidence to stop saying the phrase, "I'm trying to learn JavaScript" or describing my background in an apologetic way. When asked about my interest in coding, I was able to talk about making games collaboratively through this group, how fun it was to work with others, and the joy of figuring something out you had no idea how to do."
-Jenna Johnson
Member in HomeTeam, part of 13 person Clash Tracks team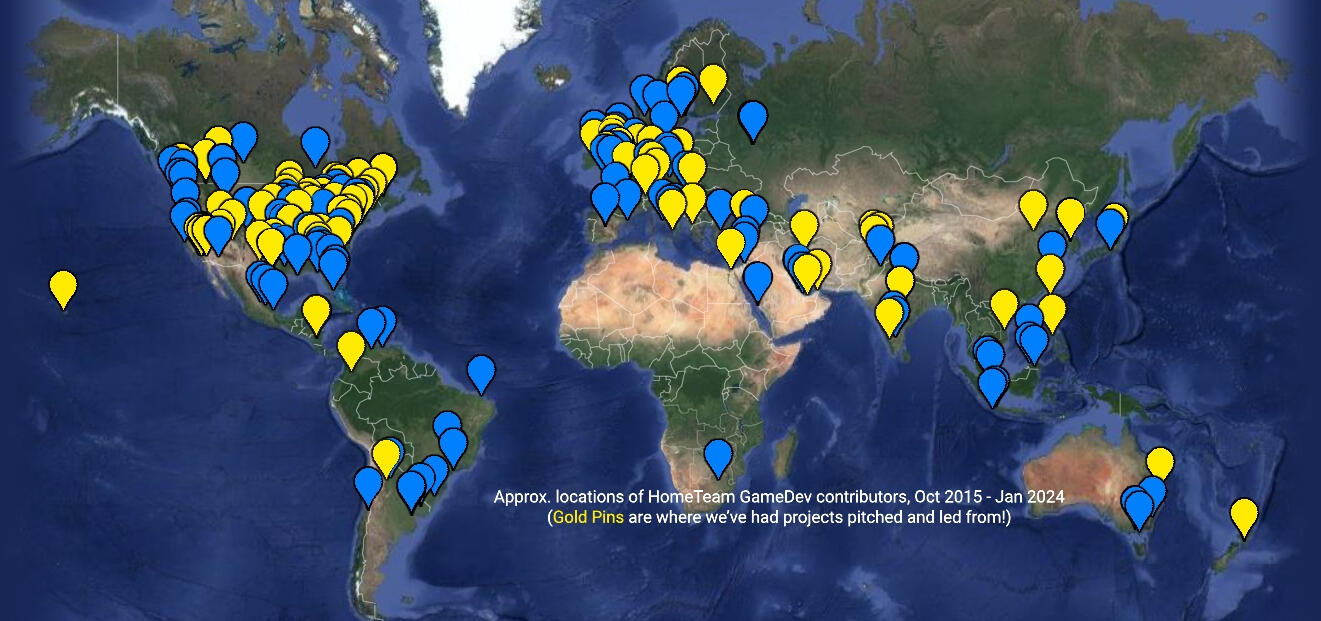 Alumni from the game development communities I've established and operated (at Carnegie Mellon, Georgia Tech, now independently online as HomeTeam GameDev) went on to work in industry at Signal Studios, Schell Games, Disney, Microsoft Studios, Red 5, Activision, Double Fine, Bungie, Demiurge, Ready at Dawn, Pandemic, Electronic Arts, thatgamecompany, Zynga, Maxis, Sledgehammer Games, PopCap, Hi-Rez, Thrust Interactive, Turbo Button, Lumosity, Stork Burnt Down, Adult Swim Games, Side Effects Software, Oculus, 343 Industries, Golden Glitch Studios, Finite Reflections, Outof, Standing Stone Games, Ubisoft, Ripple Effect Studios, Adroit Studios, Tencent LA, and multiple startups.Game Creation Society alumni have gone to successfully crowdfund new games together, including the IGF winner Elsinore. In 2023, a VGDev member project won the Student IGF Award (Slider, led by Daniel Carr).HomeTeamGameDev has many stories of helping move member's careers and skills forward. Anyone worldwide can apply to join us in HomeTeam. It's fully remote, asynchronous so it works around your time, and not university affiliated.
Practical learning content to help everyone everywhere make games
10 million views :: 370,000 students :: 160,000 podcast downloads
For more than ten years I've consistently delivered free and accessible quality information at scale. This includes freely sharing career stories from hundreds of professional contacts in my network and discussing more about game development than how to write code.Although I mostly post on my own channels, several years ago I guest wrote for a few episodes of Extra Credits. The first was about why I believe game development is worth doing even when entirely non-commercial). The others were about de-gamification, stress, and teamwork.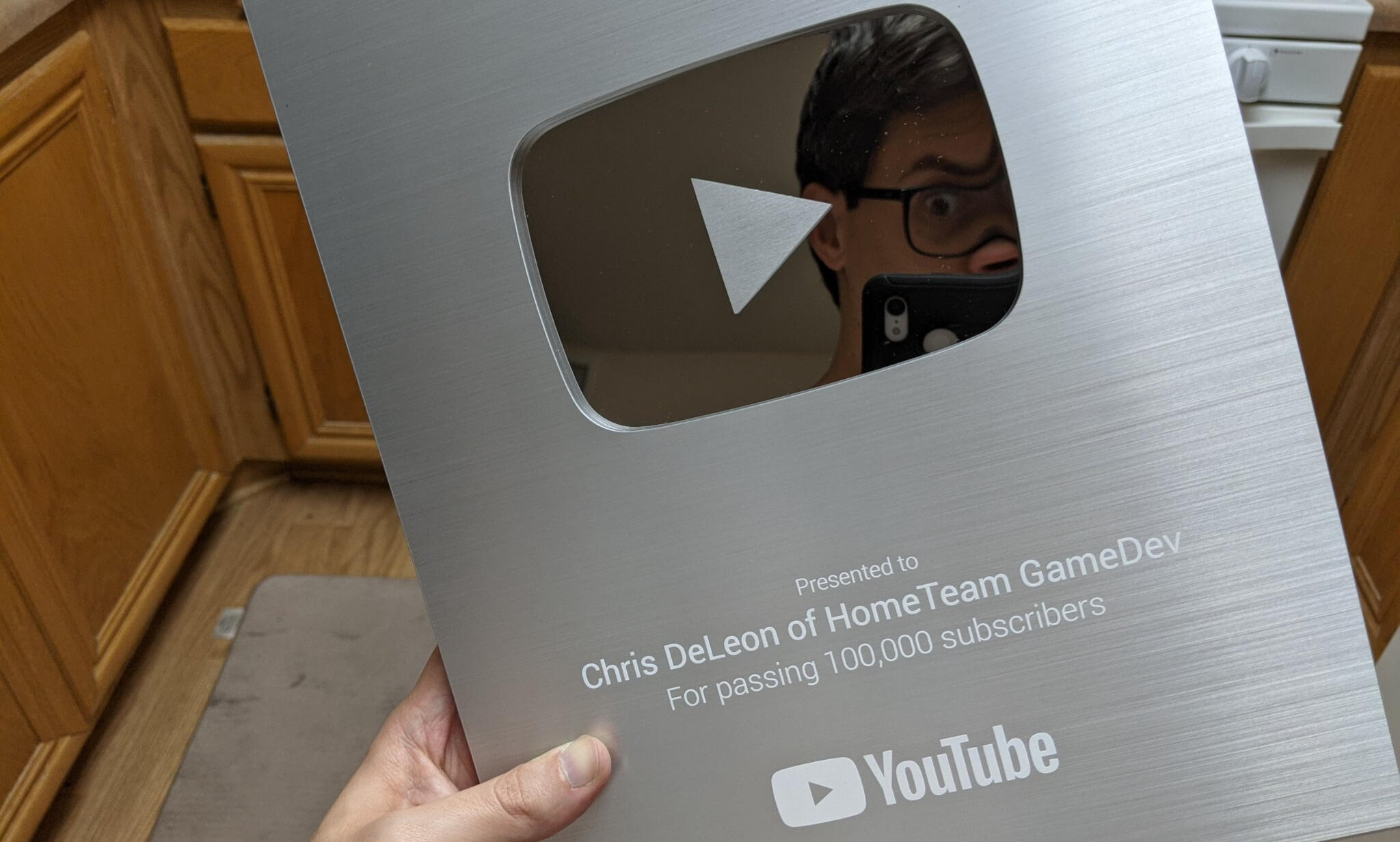 ---
Game making hobbyist since 1997, professional since 2005
More than 100 games released and 200 prototypes
Summary reel of released games where I was either solo or in one of the core team roles (not including only scheduling or recruiting):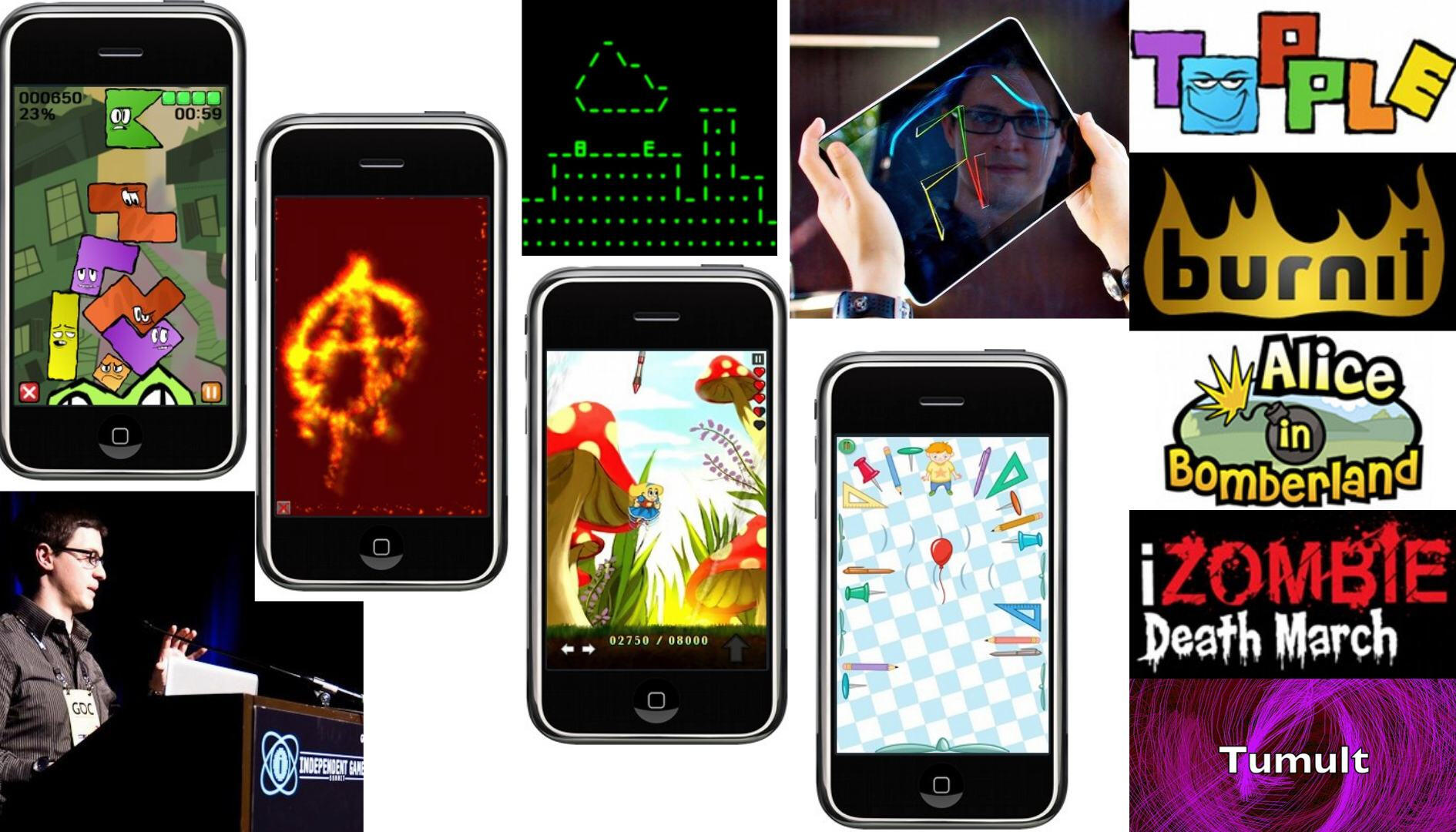 Though most games I help people make today are for practice, here are other highlights from my game development career:
I developed Topple, the #2 top selling iPhone game in 2008.

Vision by Proxy Second Edition, a freeware game for which I was the programmer and level designer, has been played by more than 7 million people worldwide.

As a Technical Game Designer for Boom Blox, a Wii game featured at the Smithsonian museum, I created the level editor used by most of the other designers, in addition to authoring around 100 puzzle stages for the game.

I was part of a small team that prototyped new types of games for Will Wright, a pioneer in the gaming industry.

For Medal of Honor Airborne, I authored the first weapons upgrades, led design for the original internal level, prototyped dozens of features for the design team, and produced the demo, which at the time became EA's most played demo.

My independent experimental game feelforit was named an IndieCade finalist in 2010.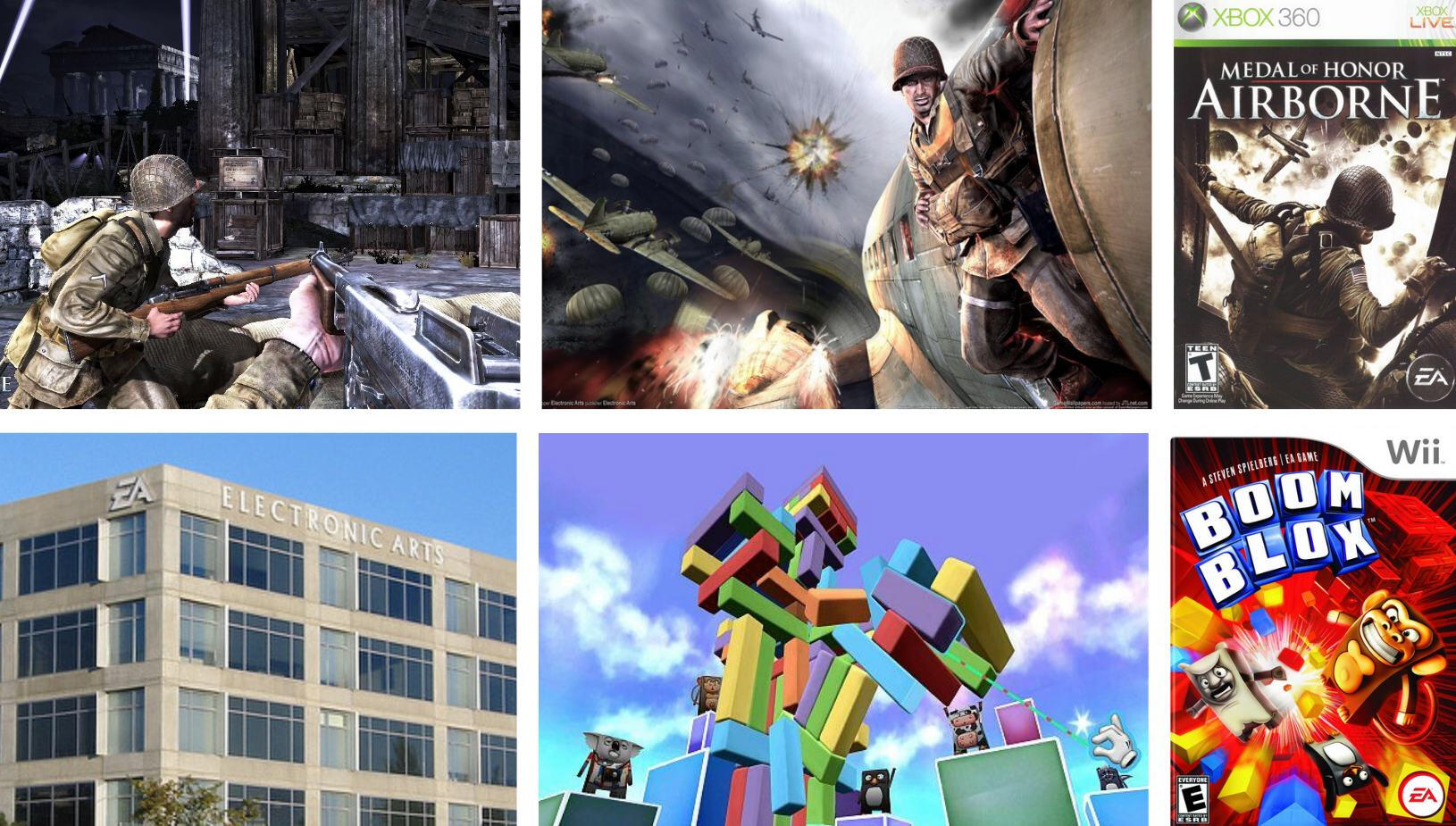 219 daily playable prototypes in a row, summary of design findings:
---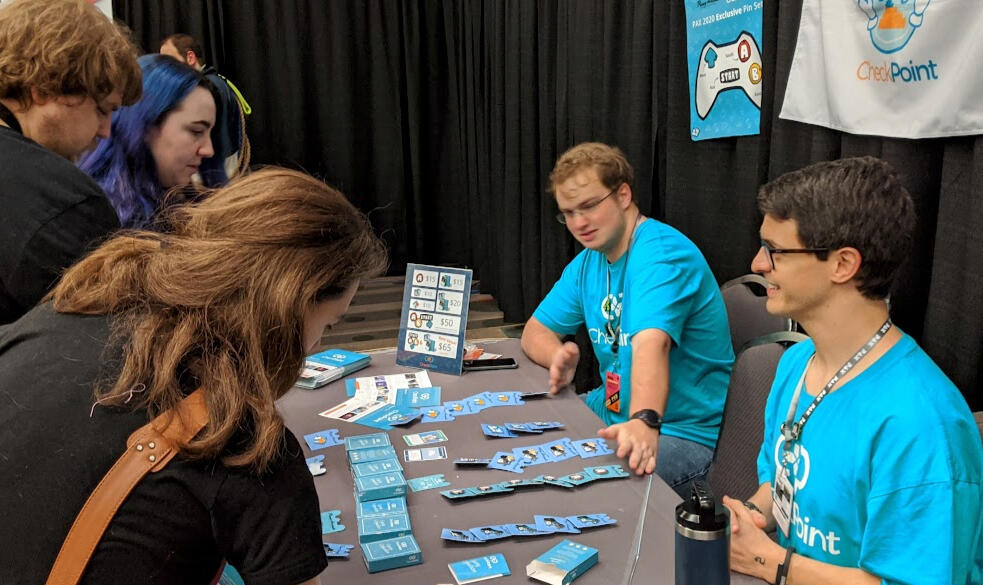 Conference Speaking, School/Non-Profit Volunteering, Game Development Advocacy, Research, and Freelance Teaching
"Chris changed the game when he started volunteering at our school. He collaborated with our computer science teachers to ensure their curriculum met industry standards, shared his expertise with students on their game designs, and connected the school to professionals in the gaming industry via field trips and classroom visits. To prepare students for job interviews after graduation, he provided insightful feedback on their digital portfolios and engaged them in mock interviews. Chris has a passion for helping others achieve their goals and his partnership with our school created a transformative learning experience for students."-Matt Piwowarczyk
Former Instructional Coach at the Critical Design and Gaming School at Augustus F. Hawkins High School
"Chris DeLeon is a phenomenal teacher and connected with my students encouraging them towards higher education and the game design industry. He makes learning fun and has in-depth knowledge which is engaging and inspirational to students."-Christopher McClung
Elementary Assistant Principal, Redlands Unified School District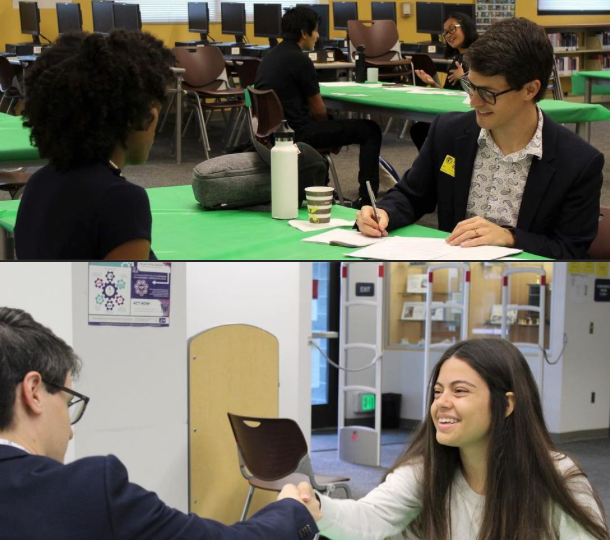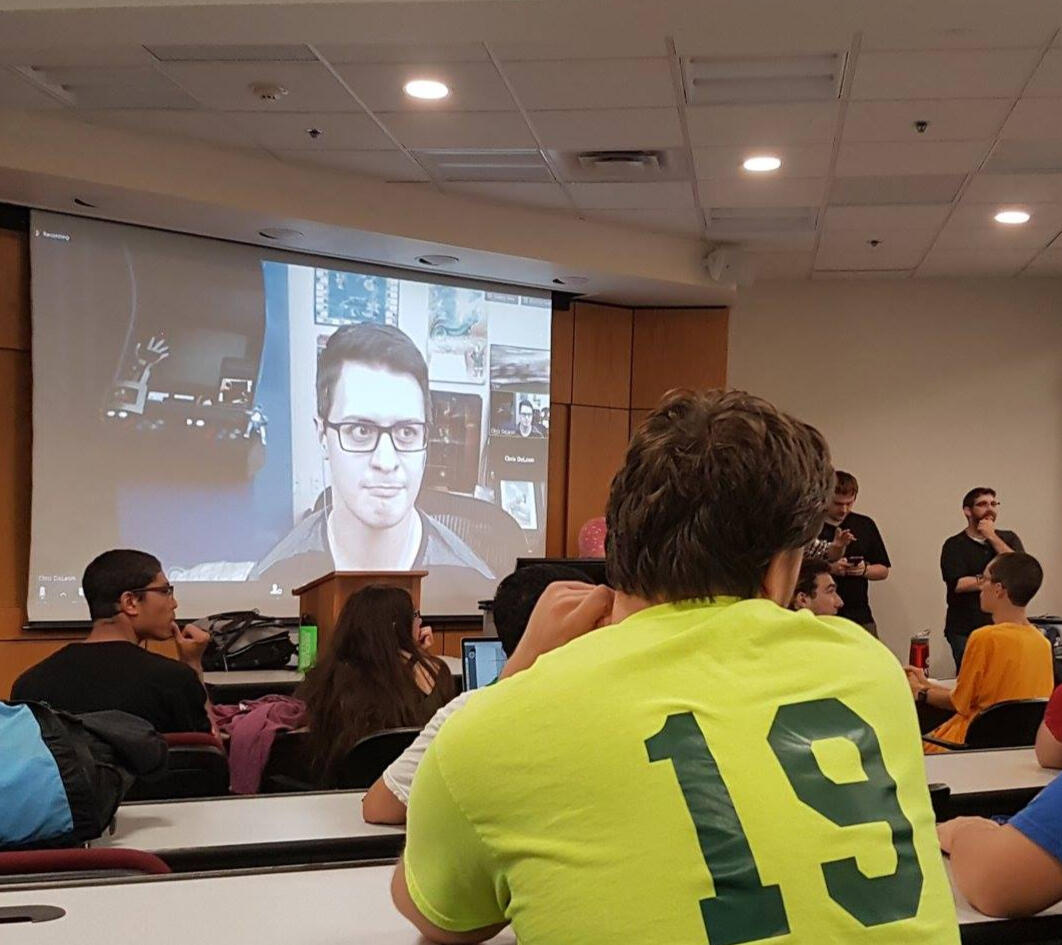 HomeTeam GameDev, 2015-present: Supporting 7-15 teams in parallel year-round, advised 180 released freeware games
Northeastern University, Fall 2023: Teaching 2 sections of Game Rapid Prototyping, preparing students to pick capstones
Sycamore School in Malibu, 2016-2017: Taught coding concepts to children ages 4-10 weekly for a full school year
Georgia Tech Instructor 2013-2014: Taught an undergraduate course on interactive media design in Processing and Unity3D
Georgia Tech Grad TA, 2 years/4 classes 2012-2014: Taught all programming required for Digital Media grad students (Java, PHP, MySQL, HTML5, Unity3D)
Camp Galileo Game Design summer 2009, Lead Instructor: Taught ~60 preteens game design in 4 2-week classes
Game Development Lessons, 6 months 2006-2007: Trained four students one-on-one in independent videogame creation
Keynote for IndieCade Greenlight Jam 2023: Taking your games further - how and when to do it
2D Game Art for Solo or Small Teams - free online panel I moderated and co-organized
Georgia Game Developers Level Design Day 2022 speaker: Boom Blox process and design principles
Game Developers Conference 2020 (online): On a panel about organizing a local career fair
IndieCade 2021 Wings Tale Game Tasting (streamed event microtalk)
DreamHack 2020 Anaheim main stage: Indie game business pitch panel commentator
Glitch City post-E3 2019: Gave a microtalk on arcade-game design and pinball history
IndieCade West/LA 2015-2019: Organizer for speakers and workshops in LA, gave multiple talks for beginners
GDC 2017 Education Summit: "Teaching Games with Games 4: Yet Another Six Exercises in Play" (microtalk)
IndieCade 2017 Talking About Your Game: Interactive workshop on effective conference networking
#ResistJam 2017: Leading a workshop on going from brainstorming to taking action
Global Game Jam 2017: Keynote Speaker at Art Institute of California on experimental design
IGDA at Eastern Kentucky University 2016: Clearing up popular misconceptions about game development
IndieCade East 2016: On panel about developer communities, based on starting practice clubs
IndieCade EU 2016: Workshop organizer for 2 days of talks in Paris, gave a talk about communities
GameU Moderator, 2016: Panels on impostor syndrome and game design academic programs
GDC Education Summit 2014: Shared our game development club processes
Game Developers Conference (Rapid-Fire Indies) IGS 2011: Spoke on the practical value of design constraints
SIEGE (2011-2014 years, 4 talks): Presented on iOS, first projects, HTML5 vs AS3, and student challenges
IndieCade Micro-Talk 2010: Advocated for teaching videogame creation as a new high school shop class
Remote speaker for Georgia Tech in 2023: Survival skills for early career - productivity tips and business basics
ProjectCityTV Making Comics Summer 2023: Remote speaker on finishing projects and indie marketing
Charter high school talk: About my career path and answering student questions as a separate video
Public high school computer science club: Online guest speaker about game design and my career
6 elementary classrooms remote speaking: Books people read to be better game developers
Three North Carolina grade school classes, 2021: Careers in game development, key skills to learn
Carnegie Mellon Game Creation Society, 2020: Spoke on the importance of collaboration
Art Center 2019: Spoke with college students on small team game development prototyping
Senior Project Feedback 2019: Met with dozens of students as a volunteer to discuss their processes
Irvine Valley College Guest Speaker, 2018: Covering a mix of starting advice and research foundations
10th Grade Game Fair, 2018: Feedback for 28 student teams over 5 periods in Critical Design and Gaming
Critical Design and Gaming School, Game Fair: Industry volunteer feedback for 5 classes of projects
Georgia Tech Computational Aesthetics Speaker: Shared research on pinball's history and digital play
Michigan State University Industry Panel 2018: Chat with juniors on careers, roadblocks, and standing out
Augustus Hawkins High School Career Day 2018: Industry professional meeting with students
LA Film School: Discussed basic business topics for game developers early in their careers
Los Angeles Unified School District, Linked Learning: Part of an industry panel for teacher training
University of Michigan High School Summer Program: Online panelist sharing stories from industry
Moorpark College Volunteer Judge: On feedback panel for final semester game projects by students
Local LA High School Volunteer, 2017: Meeting with students about picking their first digital game projects
East Coast High School Guest Speaker: Explained common game development uses for math
Grand Terrace High School Career Day 2016: Assembly lecture on game careers
Second Grade Speaker 2016: Shared foundational concepts and stories about making games
USC, Interactive Media & Games Division 2016: Guest lecture on pinball history, arcade design, digital rules
11th Grade Game Development in LA (Unity/C#) 2016: Industry feedback panel for ~20 term projects
Moorpark College Game Design Class, 2016: Spoke on techniques and industry
9th and 10th Grade Game Development Math, 2016: Taught how math is applied to game programming
Becker College speaker 2015: Talk on mistakes made by new developers
High School Speaker in Redlands, 2014: Showed uses of algebra, geometry, and trig in making games
Guest Speaker for SAE Institute, 2013: Talked about careers with game art and design students
University of Michigan Game Development Class, 2014: Part of a panel discussing careers
High School Guest Speaker, 2014: Discussed student-project strategies, joined curriculum design meeting
Middle School Game Group Support 2013: Mentored student group and helped develop project plans
Georgia Tech Brown Bag, 2013: Shared original research on influence of payment models on game design
GT High School Mathematics Competition: Explained uses of high school math in game programming
SCAD Savannah Guest Speaker: Presented on small team project management tips and strategies
Academy of Art, 2009: Shared and contrasted experiences from commercial and student game making
Westwood College 2013: Spoke on the career significance of making games as an extracurricular activity
UC Berkeley Videogames as Art (2008 and 2009): Guest lecturer on art and experimental gameplay
Guest Speaker at Carnegie Mellon 2008: Gave 45-minute talk on learning life values through gameplay
CMU MOSAIC Speaker 2007: Presented about the history of gender issues in entertainment technology
CMU Summit Instructor, 2006 & 2007: Coached three-day videogame design workshops for beginners
Not-GDC 2023 GameIndustryGathering (GIG) Hangout: Zoom networking volunteer moderator
Game Dev Carnival 2021: Panelist about running online developer communities
IndieCade Anywhere and Everywhere 2020 Networking: Hosted for ~100 hours across 8 days
PAX South 2020 "AFK Room": CheckPointOrg industry mental health non-profit volunteer tabling
IGDA Los Angeles Chair 2019: Organized and executed various online events, including our second Town Hall
Job Corps in LA, 2017: Outlined careers related to games, and making hobby games to develop skills
Speaker for Los Angeles Indie Dev Club 2016: Shared lessons learned from mobile development
GDC Mentor for AIAS Intel Scholar, 2013: Tips for Guildhall SMU grad students on career and networking
YWCA Cascade House Volunteer 2012: Helped teens learn game programming on weekend 2 hour small group classes for 8 months
Step-by-Step Game Development 2009: Led a Hacker Dojo workshop on introductory game creation
Developing Developers Workshop Series 2007: Prepared and delivered nine full lectures on videogame creation
GTRIC Conference 2014: Discussed patterns from 7 months of nightly prototypes ("InteractionArtist" series)
NIH Think Tank, 2013: Game development representative in a DC meeting for biomedical research
DiGRA 2012: Presented original research on differences between digital and non-digital game rules
UCLA Game Art Festival 2012 at Los Angeles Hammer Museum: Showed my 3D Escher "notgame"
History of Games International Conference 2011 in Montreal: Spoke on pinball's connection to modern games
Self-Doubt audiobook/book (2023): 2 hour 30 min / 77 pages on untangling why people don't start new things
Self-Calm audiobook/book (2020): 7 hours 11 minutes / 251 pages, free on YouTube and free ebook modernization on Meditations by Marcus Aurelius
Self-Command audiobook/book (2019): 5 hours / 123 pages
From Tutorials to Original Games (2018): 31 page exercises booklet
Hands-On Intro to Game Programming (2014): 559 pages, step-by-step construction of 6 classic games and 100 exercises
Videogame Developer's Strategy Guide (2013): 448 page, 50 articles as top-read weekly posts from six years of blogging
Contributing Author to La Fabrique des Jeux Vidéo (2013): Wrote a chapter on the evolution of game spaces
Game Developer Magazine Fall 2010 Career Guide: Intro to hobby game development
Game Developer Magazine Mar 2010: Art History of Games article
Game Developer Magazine Jan 2010: Introduction to Unity 2.6
HobbyGameDev.com (2008-2014): Weekly blogging on tips and strategies for making freeware games
Young Videogame Developer's Journal (2007): 51 pages on my first 45 freeware games
HomeTeamGameDev 2015-present: Founder, director, and lead trainer, over 180 games released
Georgia Tech VGDev (2010-2014): Founder and lead of college game making club, releasing 10-14 games/year (new site, older site), over 150 released
Carnegie Mellon Game Creation Society (2004-2007): Cofounded game making club, releasing 10-14 games/year, over 190 released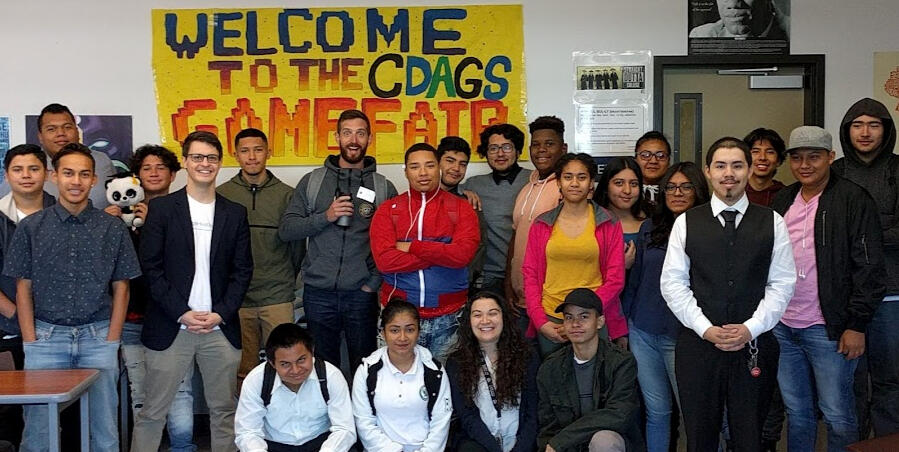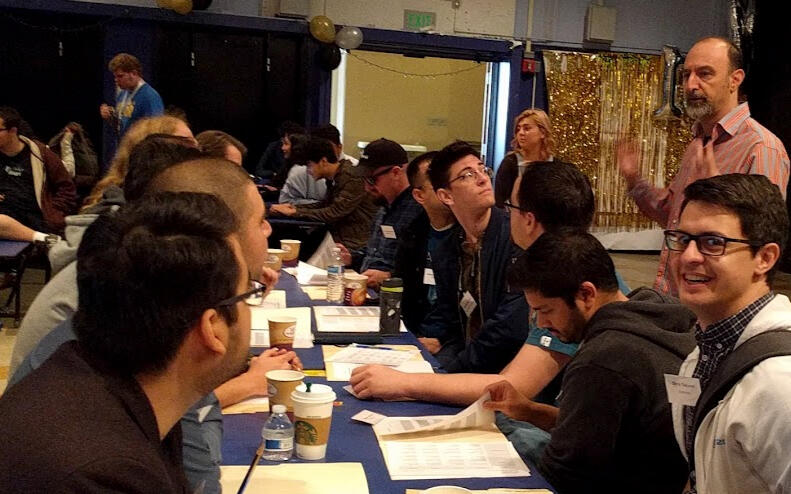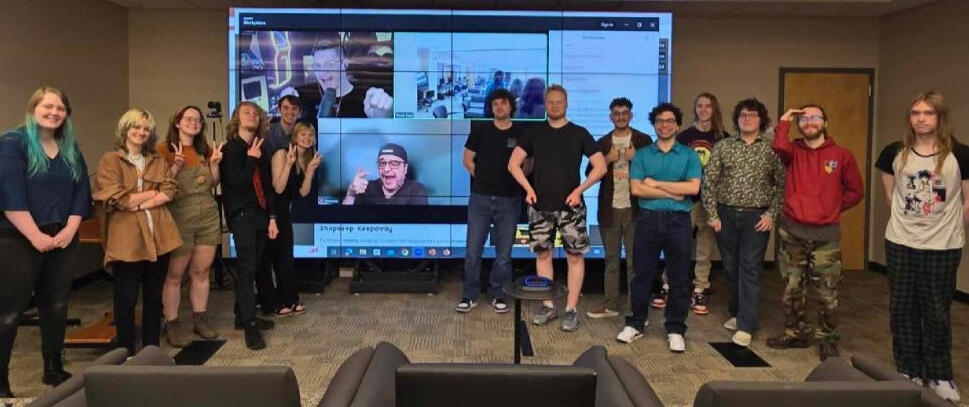 Free Game to Learn How to Read Code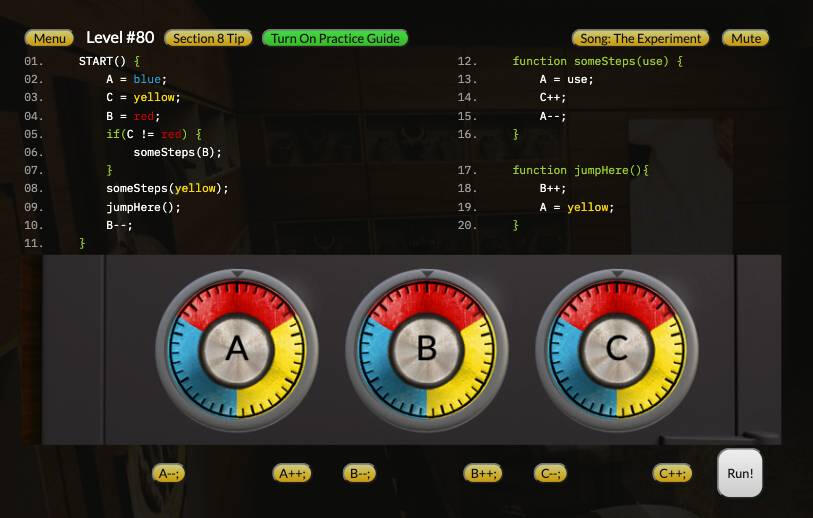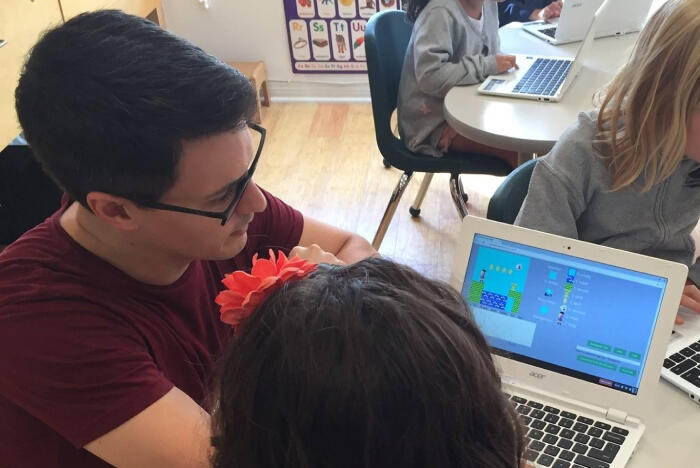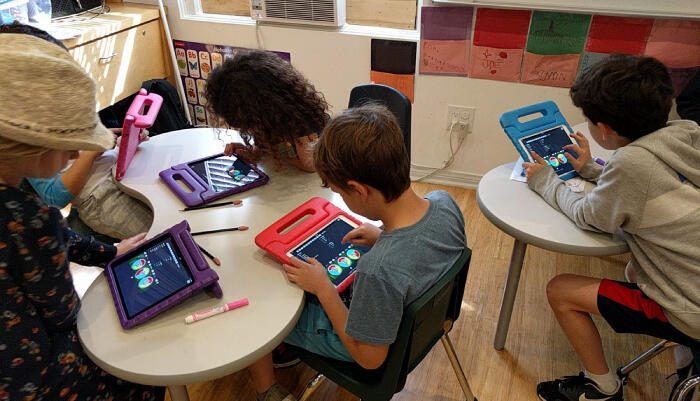 I developed this educational game while working with kids between the ages of 5-12, however it's an easier point of entry for people new to coding at any age. It's simple to learn, then builds up towards concepts that will make it easier to follow any other coding tutorials.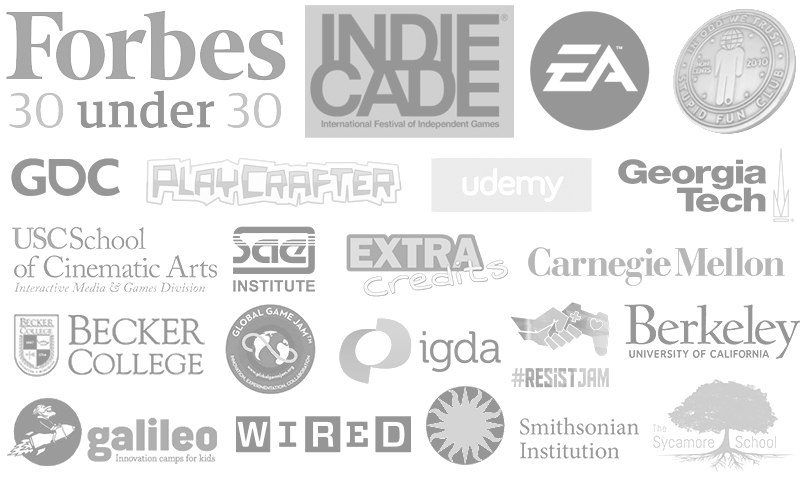 All logos are property of their owners. These are companies, schools, and events I've worked with, spoken at, or had work featured in. These do not indicate endorsement or ongoing relationship.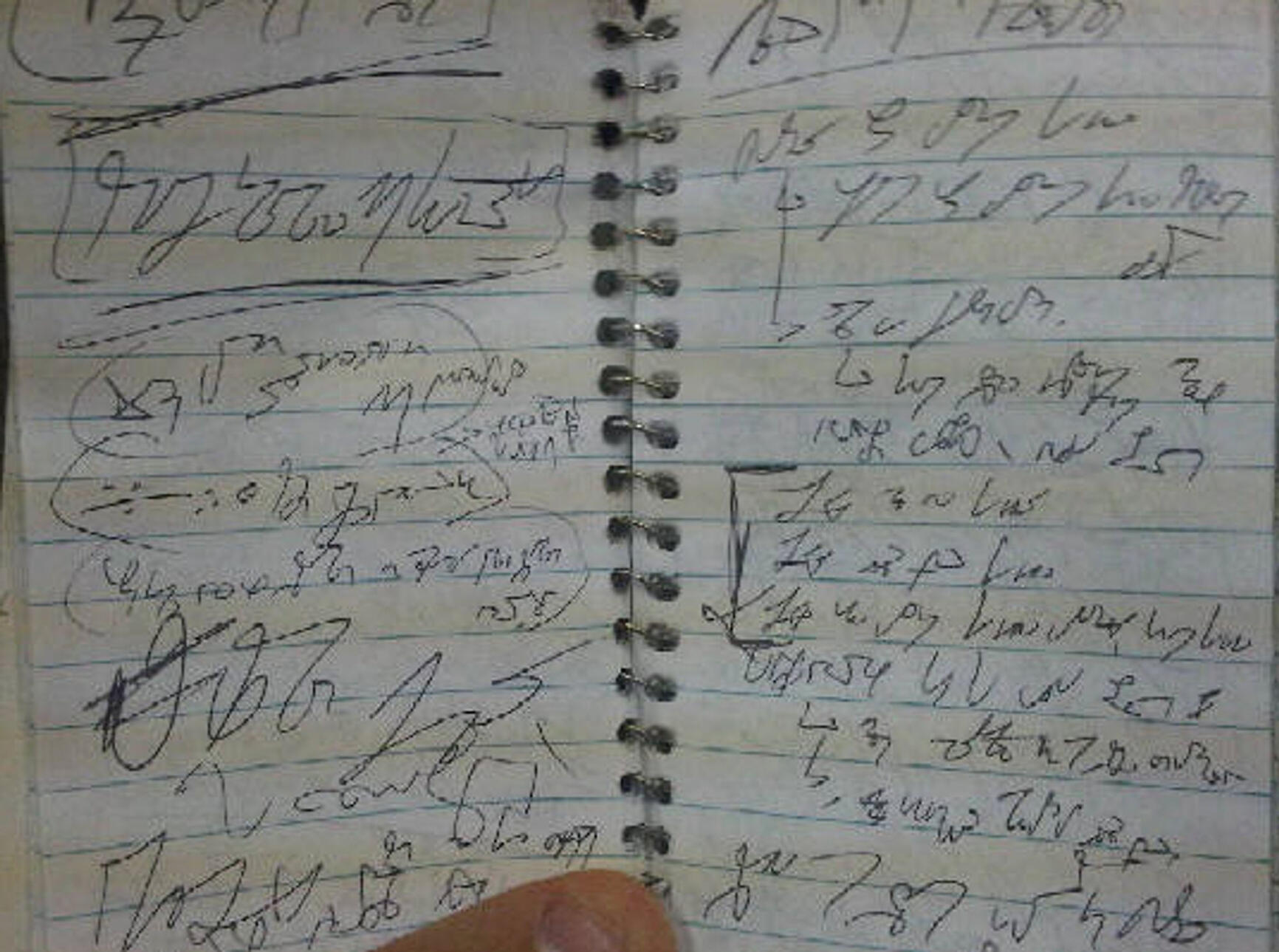 To answer common questions: I didn't try to get on it (it was the first one, they contacted me), nor did I pay to be on it. It's not related to net worth. The list has 12-15 categories of 30 people every year, so by now it's 4,000 people. Other people I met through a few of the networking events are normal and kind.The age cutoff does not mean you must achieve big things by 30 or it's too late. It's a kid's division - if you took that age cap off many people older than 30 do bigger things than what most non-celebrities on the list have done. It's like how a musician may be unusually good for a 13 year old, but there are still many better older musicians.These days when people hear about it there's often confused, wrong assumptions. I mention it only because it sometimes helps me help other people by getting a stranger to give my work or experience a second look.Games didn't have a category our year, so I and 5 other game developers were put in Entertainment alongside athletes and celebrities. This led to my older brother jokingly introducing me to people as the LeBron James of making videogames.
---
"As seen on EPSN" 😉
In 2011 I was working on Kinect full-body gesture recognition at Georgia Tech, on the software side of a team doing AI research based on the thinking process used by improv actors (video 1, video 2, video 3). ESPN was on campus to cover a football game, and the crew wanted to get a few clips they could run to show things happening off the field at GT. We had zero heads up or preparation time, and were told there was no promise that they'd use any given clip. I assume mine got used because I move like a muppet, which as research projects go shows well as a few second clip without sound.A friend from my hometown recognized me and messaged immediately when it aired ("I looked at my coworkers and said 'that's my friend...' they gave me guff saying that you were just a stranger, but I know the truth."), which is my main memory of it.
---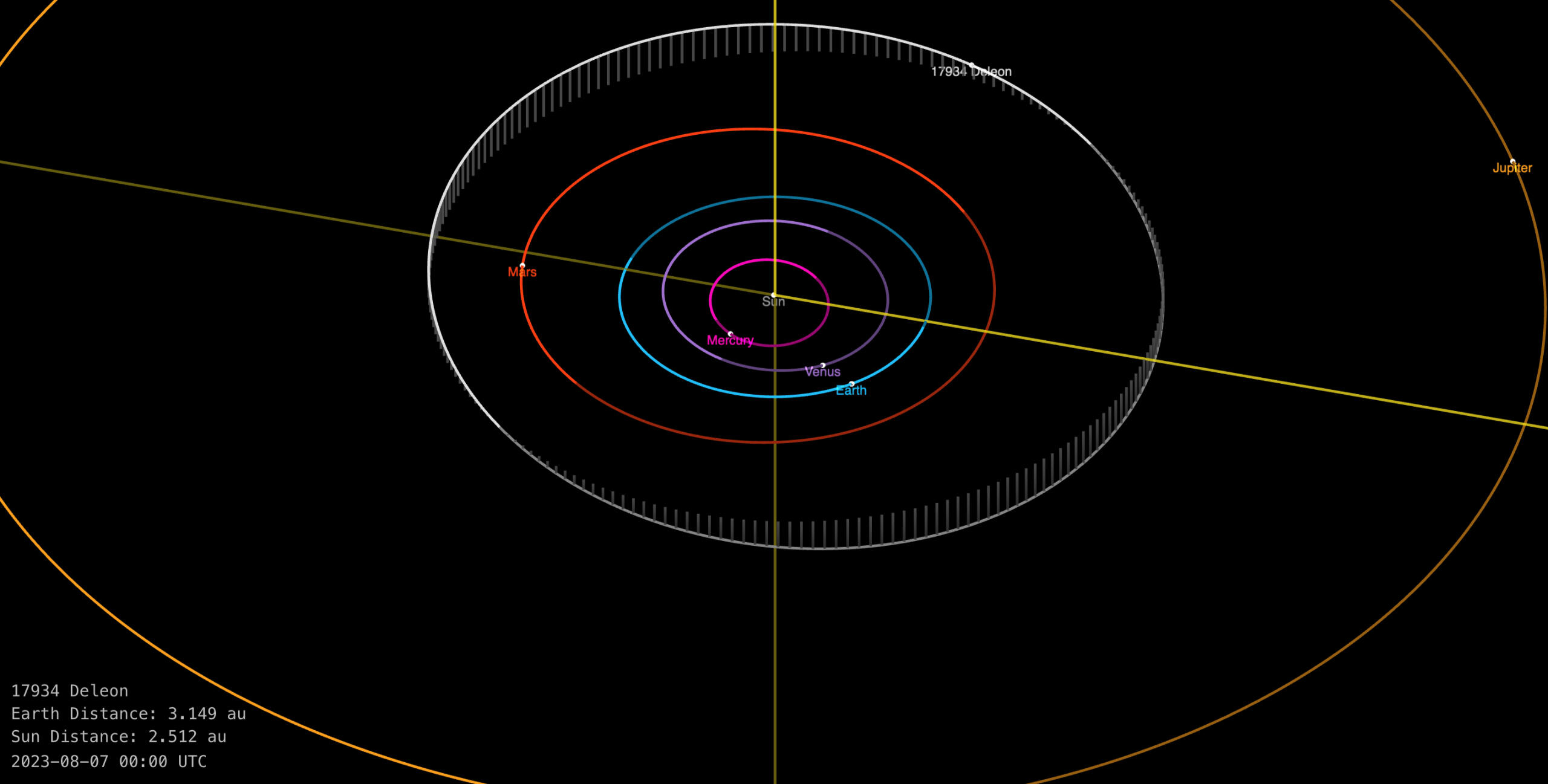 I've had a weird life. Although this one's less of a story than it sounds like. In high school I placed 4th in the International Science Fair, in the Computer Science division. I made a program that looked like The Sims, except worse because made by one teen. Everyone who ranked (maybe still the case?) got our name assigned by NASA JPL to celestial objects which previously only had number labels.
---
I also give weekly 1-on-1 lessons over zoom for students as young as 8
First new youth client availability since 2019
Although I mostly train adults in groups, for more than five years I have also met weekly on zoom with a limited number of students ages 8 and older.I tailor everything to each student. Meetings are one hour weekly, timing is flexible. No experience is required, but if they've tried programming, computer art or other game making and liked it that's a plus.People with my professional background and amount of teaching experience who are available to privately with kids or teens are rare. Price is comparable to top tier music or sports lessons. There's no minimum period of commitment, although most students continue working with me for years. A one-time, one month, or one summer sprint isn't likely to achieve substantial, long-term advantage in the related skill areas.Because I have experience teaching a range of skills levels, from young kids to adults in industry, I can match a learner's progress over years with their growth, strengths, and evolving interests.
The process begins with an informal 30 min. chat about your aims, the student, and questions to work out if the lessons I provide are a fit. Book a half hour initial consult and we can discuss your questions.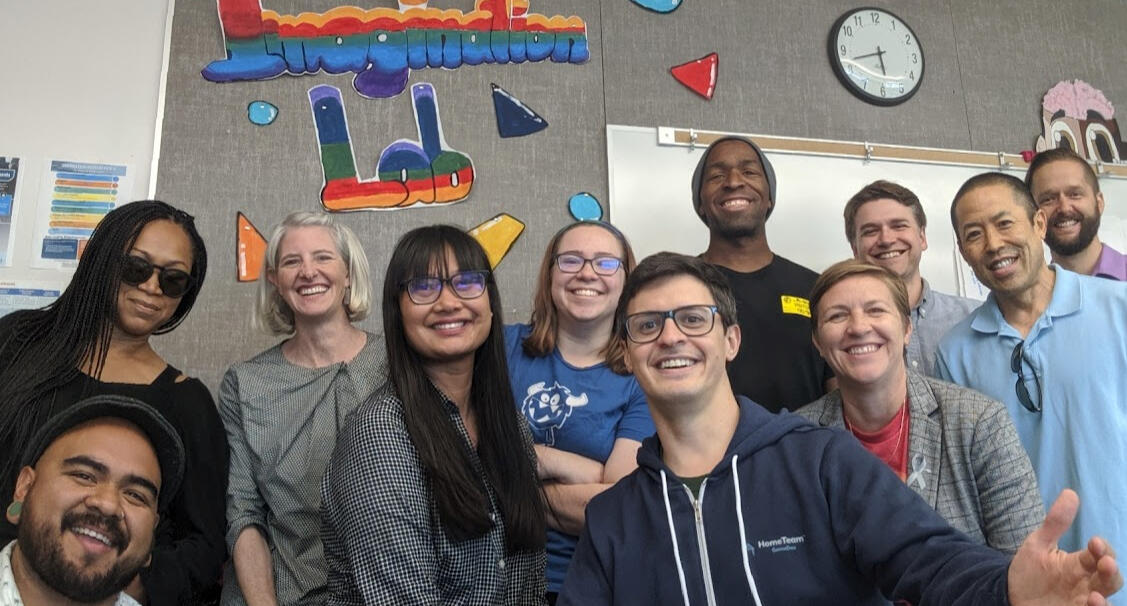 "We truly appreciate what you have done for our son. This has certainly been such a wonderful experience for him and truly enjoys every minute he has had with you. You have made a tremendous lifelong impact. Thank you!!!"-Albert and Donna V.
Lessons client parents, 2019-present
Last name obscured for student privacy
More comfortable sending an email? chris@HomeTeamGameDev.com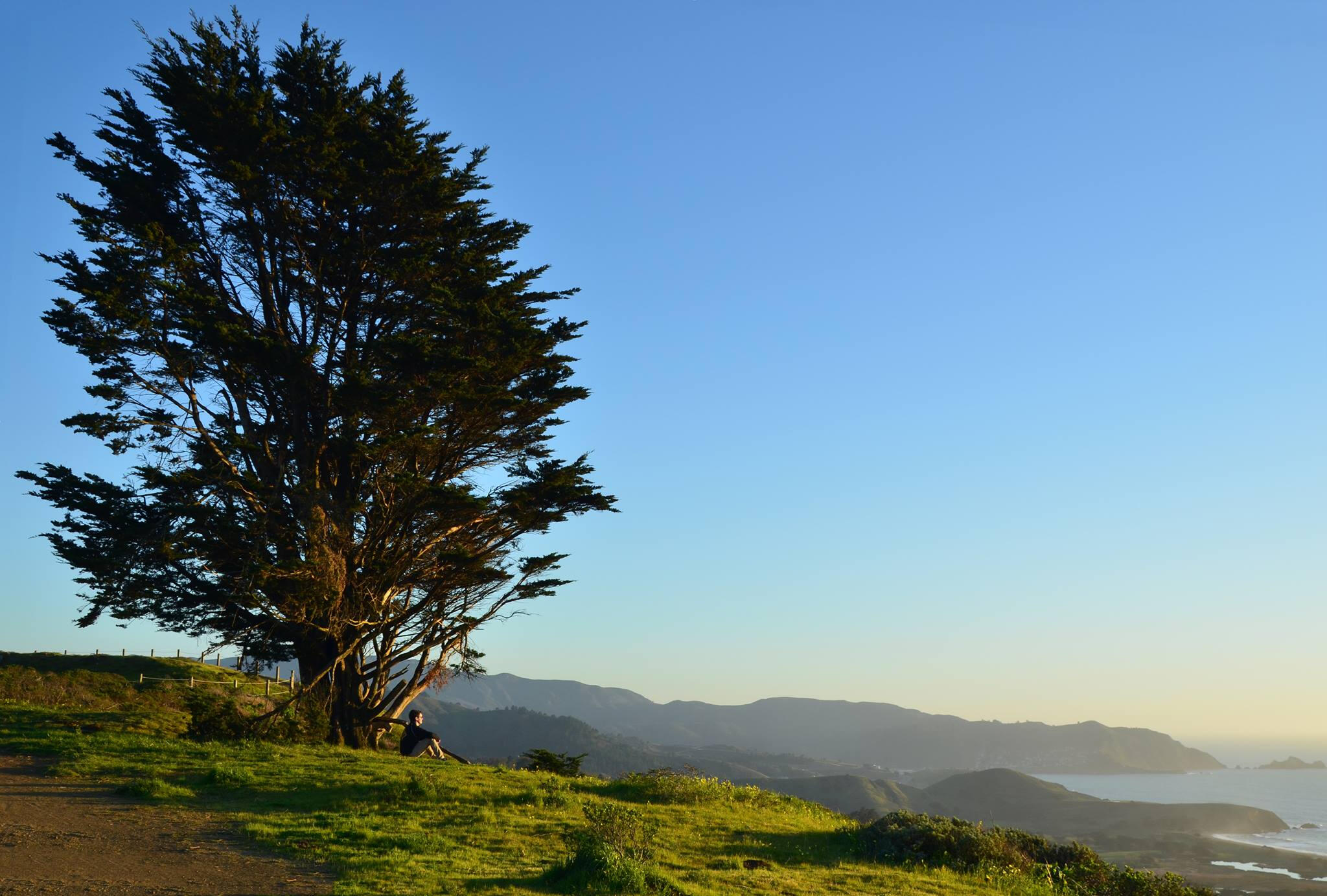 Why I do things the way that I do
Teaching and business philosophy
My unique approach as an independent educator originates from organizations I founded at Carnegie Mellon and Georgia Tech. Embracing this as my full-time profession in 2015 gave me the freedom to experiment with educational philosophies beyond traditional boundaries.Many people misunderstand our structure. It's not a class, meetup, or simulated job. Instead, participants collaborate on remote teams making freeware game and I provide personalized lessons in the context of whatever projects and roles they choose. My training specializations are in gameplay programming, small team production (planning, scheduling, coordinating), and general gameplay design, although members can also schedule help sessions with our specialists in other domains (audio, 2D and 3D art, UI, UX, level design).Here are some excerpts that have influenced my unconventional training format:
Why instead of giving lectures I have students choose their projects and tasks, then meet with them up to every week or two"In the newer universities in England and America there is a regrettable tendency to insist upon attendance at innumerable lectures... When I was an undergraduate, my feeling, and that of most of my friends, was that lectures were a pure waste of time. No doubt we exaggerated, but not much. The real reason for lectures is that they are obvious work, and therefore businessmen are willing to pay for them. If university teachers adopted the best methods, businessmen would think them idle, and insist upon cutting down the staff. He should see the pupils individually when they have done their papers. About once a week or once a fortnight, he should see such as care to come in the evening, and have desultory conversation about matters more or less connected with their work. All this is not very different from the practice at the older universities. If a pupil chooses to set himself a paper, different from that of the teacher but equally difficult, he shall be at liberty to do so."-Bertrand Russell
Education and the Good LifeWhy instead of exercises or quizzes I emphasize solving problems in the context of real team projects"In a word, learning is decontextualized. We break ideas down into tiny pieces that bear no relation to the whole. We give students a brick of information, followed by another brick, followed by another brick, until they are graduated, at which point we assume they have a house. What they have is a pile of bricks, and they don't have it for long… More and more teachers are coming to recognize that excellence is most likely to result from well functioning teams, in which resources are shared, skills and knowledge are exchanged, and each participant is encouraged and helped to do their best."-Alfie Kohn
Two parts from Punished by Rewards: The Trouble with Gold Stars, Incentive Plans, A's, Praise and Other BribesWhy my approach to education focuses on peer community and hands-on practical learning"...Expense of getting an education would in a great measure vanish... Those conveniences which the student requires at Cambridge or elsewhere cost him or somebody else ten times as great a sacrifice of life... Those things for which the most money is demanded are never the things which the student most wants. Tuition, for instance, is an important item in the term bill, while for the far more valuable education which he gets by associating with the most cultivated of his contemporaries no charge is made...""...Says one, 'you do not mean that the students should go to work with their hands instead of their heads?' I do not mean that exactly, but I mean something which he might think a good deal like that... Which would have advanced the most at the end of a month--the boy who had made his own jackknife from the ore which he had dug and smelted, reading as much as would be necessary for this--or the boy who had attended the lectures on metallurgy at the Institute in the meanwhile, and had received a Rodgers' penknife from his father? Which would be most likely to cut his fingers?"-Henry David Thoreau
WaldenWhy I structure training as sustainable weekly practice, rather than packing it into a shorter, high intensity full-time class"Learning is deeper and more durable when it's effortful... Periodic practice arrests forgetting, strengthens retrieval routes, and is essential for hanging onto the knowledge you want to gain. When you space out practice at a task and get a little rusty between sessions, or you interleave the practice of two or more subjects, retrieval is harder and feels less productive, but the effort produces longer lasting learning and enables more versatile application of it in later settings."-Henry L. Roediger III and Mark A. McDaniel
Cognitive scientists, from Make It Stick, written with Peter BrownWhy I do not offer grading or contests, instead encouraging students to pursue what most interests and challenges them"To overcome the anxieties and depressions of contemporary life, individuals must become independent of the social environment to the degree that they no longer respond exclusively in terms of its rewards or punishments. To achieve such autonomy, a person has to learn to provide rewards to herself. She has to develop the ability to find enjoyment and purpose regardless of external circumstances… The best moments usually occur when a person's body or mind is stretched to its limits in a voluntary effort to accomplish something difficult and worthwhile… When we act freely, for the sake of the action rather than for ulterior motives, we learn to become more than what we were."-Mihaly Csikszentmihalyi
Flow: The Psychology of Optimal ExperienceWhy I use computer game development to teach people about programming, creativity, planning, teamwork, group speaking, etc."Not amusement nor distraction, but the desire to effect some cherished purpose is the strongest motive that can move the learner."-John William Adamson
In his introduction for The Educational Writings of John Locke
I see the purpose of my work as to use the skills, experience and connections I gained to help others who haven't had the head start and opportunities I did, especially people who found existing options (ex. jams, university, static online resources) didn't fit their needs well.I work on continually improving how well my business helps people in the following ways:
Significant results: in the impact it can make for each person, aiming for life changing (sometimes we achieve this!)

Scaleable results: in a way which repeatable and consistently helps more people than I can work with individually

Self-guided results: approaches that are flexible to a range of people's pace and reasons for learning these skills

Sustainable results: clients should continue to benefit from methods I teach long after I'm no longer involved
I support people who I train broadly in achieving what they want to do. I don't see my work as limited to troubleshooting code, design, or project logistics.Many people who came to for help had the tools, enough time, even many of the main skills they'd need, but weren't applying them.Jobs and schools push people to do things through pay and grades. I wanted to prepare people to be better able to do things even when there's no one else managing, measuring, punishing or rewarding them, so that they'd have the option to take on projects outside of what someone else will compel them to do.Working with people for thousands of hours of one-on-one calls, I found some related patterns and solutions that helped many of our people untangle why they weren't making progress. People who weren't making games before they tried our approach are now happily releasing games, following through on every project they begin, consistently releasing on time.This challenge—knowing what we want to do, and technically could, but aren't doing it—clearly affects game developers. But it's a far more universal issue, and many of the same solutions helped me develop my video courses, ebooks, and develop my small business.Eager to help more people outside of my field, I adapted these techniques and idea into a pair of audiobooks and ebooks, Self-Command and Self-Doubt. They're now used by over 5,000 people. They're also both included in my new video course, Complete Every Project, in addition to being available to all members in HomeTeamGameDev.
© Chris DeLeon 2023. All rights reserved.